Whenever hubby and I dine out, dessert is probably our least preferred course. We tend to err on the savoury side and given the choice we would much rather eat starter and main, than main and dessert. This encroaches on cooking at home too. You will very seldom see any baking or sweet dishes on this blog. For one, there has to be a captive audience and my darling husband is rather particular when it comes to dessert but also, I do feel baking is less forgiving and slight differences in measurements of ingredients can lead to a disaster in the kitchen. I really take my hat off to those that bake frequently and turn out masterpieces on a plate. I just don't have it in me.
Whenever we peruse the dessert menu, there is one option my other half looks for – without fail "un chocolat fondant" he declares proudly when he has found what he has been looking for. Last Valentine's Day, I decided to take the plunge and make one for dessert. I studied a recipe by a well known pâtissier and thought "How hard can it be?" The challenge I had expected with chocolat fondant was achieving the melt-in-the-middle centre. Surprisingly, this was not the issue at all. I cannot describe the sheer delight I had with achieving the right consistency. The problem was all in the TASTE. It was like eating a ton of chocolate butter! Heavy and with every bite I could feel my body filling up with a cement-like texture.  My poor hubby was polite enough to take two mouthfuls. Ever since then, I've been a bit skeptical about making Chocolat Fondant. Two things have come to pass since then, I made Iles Flottantes with some success which invariably means hubby mouthing "Oui, c'est bon" or "I'm impressed Jacqui" (if I have surpassed his expectations) but also we are in the midst of Chocolate Week here in the UK. So I thought I would rise to the challenge once more and make my nemesis.
This time I adapted a Gordon Ramsay recipe and it was spot on. Thank the Lord! A crust formed round the edges and the centre gave way to an oozing warm liquid chocolate which was rich but not at all similar to the buttery concoction I had on Valentine's Day. HOORAY!!! They say that raspberries make a great pairing with chocolate, but I wanted a sharp tasting fruit that would render a lot of juice and that could cut across the richness of the chocolate. Balsamic blueberries fitted the bill nicely.
Chocolat Fondant with Balsamic Blueberries
A decadent chocolate dessert served with juicy sharp blueberries. Chilled Fondants can be made the night before if desired. This dish could also be served with vanilla ice cream.
Ingredients
25g melted butter, for brushing
2 tsp of cocoa powder, for dusting
100g good-quality dark chocolate (containing minimum of 70% cocoa), chopped into small pieces
100g butter, chopped into small pieces
100g golden caster sugar
2 eggs and 2 yolks
100g plain flour
150g blueberries
1 tbsp caster sugar
1 tbsp balsamic vinegar
1 tbsp of water
half a teaspoon of icing sugar for dusting
Instructions
Brush the melted butter all over the inside of the ramekins.
Place the ramekins in the fridge.
Brush more melted butter over the chilled butter, then add 1/2 tsp of cocoa powder into the ramekin. Tip the ramekin so the powder completely coats the butter. Tap any excess cocoa out and then repeat with the next ramekin.
Place a bowl over a pan of lightly simmering water, then slowly melt the chocolate and butter together. Remove bowl from the heat and stir until smooth. Leave to cool for about 10 minutes.
In a separate bowl whisk the eggs and yolks together with the sugar until thick and pale. I used an electric whisk.
Sift the flour into the eggs, then beat together.
Pour the melted chocolate into the egg mixture in thirds, beating well between each addition, until all the chocolate is added and the mixture is completely combined.
Divide the mixture between the ramekins and chill for at least 30 minutes.
Heat the oven to 200°C. Place the fondants on a baking tray, then cook for approximately 12-14 minutes until the tops have formed a crust.
Meanwhile, place the blueberries into a small pan with the sugar, vinegar and water.
Heat very gently for 1-2 minutes until the berries soften, but don't burst. Leave to one side.
The fondants if ready, should start to come away from the sides of their ramekins. They should be firm around the centre and wobbly only in the middle.
Remove from the oven, then leave to sit for 1 minute before turning out.
Use a knife to slide round the side of the ramekins. This will loosen the fondants and they will gently slide out onto a serving dish.
Sprinkle some icing sugar over the top of the fondant and serve with balsamic blueberries.
Notes
I used ramekin dishes of 100ml capacity. Keep your eye on the fondants when baking in the oven. Oven temperatures can vary significantly.
http://howtobeagourmand.com/chocolat-fondant-with-balsamic-blueberries/
Unless otherwise stated, text and photographs © 2011 How to be Gourmand. All Rights Reserved. Kindly request permission from the author to copy or reproduce elements of this blog.
The berries should render juice and give way to a glorious deep red colour. Grab a spoon to tuck into the liquid chocolate. Mmmm a chocolate delight.
So this is my contribution to Chocolate Week  taking place between 8 and 14 October and National Baking Week taking place between 15 and 21 October.
For further inspiration, self-taught chocolatier Paul A. Young shares his top Chocolate tips here.
I'm adding this recipe to the Bloggers Around the World challenge, focused on French cuisine this month and hosted by the very amusing and charming Chris. Why not have a go yourself?
I'm adding this to March Tea Time Treats hosted by lovely ladies Karen over on Lavender and Lovage and Kate What Kate Baked. This month Karen is hosting and the theme is French cakes and bakes. Irrésistible, non?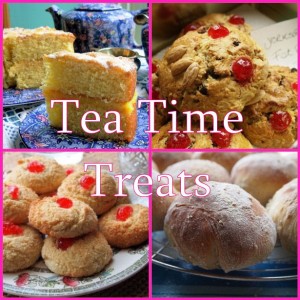 What's your favourite chocolate creation?
Like How to be a Gourmand on Facebook