This to me is an ideal dish for those evenings when you are short of time, only have a few ingredients to hand or when you just don't feel like spending too much time in the kitchen cooking. Please reassure me that you all go through those days too…. Yes? Hooray for Fiery Spaghetti Puttanesca!
It is however, likely to split opinion; those that detest it for its for anchovy content and those that love it for the salty and sharp flavours brought about by the olives, anchovies and capers. Years ago I was never a great fan of anchovies but this dish "turned me" so to speak. The way the little fish break up and melt in a thick, silky, salty sauce just waiting to be lapped up by those spaghetti strands. Truly delicious and made in a matter of minutes. What's more you can use the olive oil in the tin of anchovies to fry the shallot, garlic, chillies and anchovies.
Fiery Spaghetti Puttanesca
A very easy and tasty mid-week pasta supper dish for when you are short of time.
Ingredients
180g of cherry tomatoes, cut into halves
220g of dried spaghetti
125g of black olives, pitted and cut into halves
1 shallot or 1/4 red onion, finely chopped
1 tin of anchovy fillets (8 fillet tin)
2 heaped tbsp of capers, rinsed
2 red chilli thinly sliced (for moderate heat, use 1 de-seeded chilli)
1 large garlic clove, crushed
2 tbsp of water reserved from cooking pasta
Salt and pepper for seasoning
Brown bread crusts, toasted
Basil leaves for garnish
Instructions
Put the spaghetti into boiling salted water and cook according to packet instructions.
About 5 minutes later, empty the olive oil from the anchovy tin a frying pan along with the chopped shallot, chilli and garlic and cook for a couple of minutes.
Then add the anchovies to the frying pan and cook for a further minute. The anchovy fillets should start to break up and melt.
Add the olives, capers and tomatoes to the pan and turn up the heat. Cook for about 90 seconds.
When the spaghetti has been sufficiently cooked, drain it reserving a couple of tablespoons of water to add to the sauce.
Pour the pasta to the frying pan, along with the water and toss all the ingredients together. The sauce should have a silky texture and should coat every strand of pasta.
Taste and adjust seasoning with salt and pepper accordingly. Remember anchovy, olives and capers will already be heavily salted.
Serve into two bowls and garnish with some basil and sprinkle on some chunky toasted breadcrumbs as required.
Notes
Linguini can also be used as a replacement for Spaghetti.
http://howtobeagourmand.com/fiery-spaghetti-puttanesca/
Unless otherwise stated, text and photographs © 2011 How to be Gourmand. All Rights Reserved. Kindly request permission from the author to copy or reproduce elements of this blog.
If you follow my blog, you'll know I like a bit of heat in my dishes so I have added 2 chillies to make a fiery hot Puttanesca. I appreciate not everyone enjoys so much heat so remove the seeds and only use one chilli pepper with this dish.
If I have a spare red pepper, I like to grill, peel and add to the dish. Although not a true Puttanesca, I do feel it works well in this pasta dish.
For additional texture, I toast some crusts of brown bread and add for extra crunch.
Who says pasta has to be boring? To be honest, I feel like a bit of a "cheat" posting this up as there is minimal cooking involved but it is a recipe I turn to time and time again.
So tell me truthfully, are you a lover or hater of anchovies? Let me know in the comments below!
Like How to be a Gourmand on Facebook
Since this uses a lot of store cupboard ingredients and minimises the use of adding extra olive oil, I'm adding this to Credit Crunch Munch challenge owned by Helen and Camilla and guest-hosted this month by Janice.
Also, because I've used basil in the dish, I'm going to enter this into the Herbs on a Saturday challenge owned by Karen and guest-hosted this month by Anneli over at Delicieux.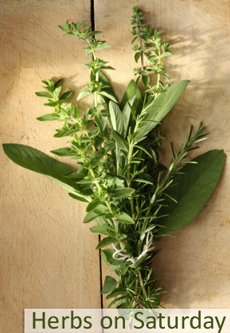 I'm also adding this to Bloggers Around the World challenge whose theme this month is Italy and is hosted and owned by Chris over at Cooking Around the World.