Well wouldn't you know it, we are slap bang in the middle of  National Vegetarian Week  and what better way to celebrate by indulging in a favorite vegetable of mine; the aubergine. No, let's correct that. The grilled aubergine. Fried aubergine just doesn't taste the same! Stick it under the grill until the skin gets crinkly and the flesh collapses inside and renders the most marvellous smokey notes. Top with garlic infused olive oil, a spritz of lemon juice and little squares of cold, salty feta and fresh mint and you have a really mouthwatering combination. This dish really does signal the start of Summer for me and while it won't challenge your inner Delia, your taste buds will approve. The recipe is inspired by Simon Hopkinson's  The Good Cook programme which aired a couple of years back.  I've adapted it by reducing the amount of olive oil, I've used mint instead of parsley (because everyone knows that mint and feta make a superb combination). I've served it with rocket leaves, tomatoes, olives, red onion and a vinaigrette dressing to enhance the Greek accent to the dish. You can visit the recipe and learn how to prepare the aubergine here. Serve with a couple of slices of crusty bread and you have a flavoursome lunch.
While, I don't adhere to a vegetarian diet myself, I am becoming more aware of the amount of meat I consume and am increasingly finding ways of serving and cooking an array of different vegetables.
Here are some of my other popular vegetarian salads.
This Thai Coriander Salad is deliciously light with a lemongrass and rice wine vinegar dressing. Ideal when you want to cool down during a heatwave. The recipe can be found here.
Another recipe which has proved popular on the blog is this Warm Halloumi, Lentil and Tomato Salad. A satiating and nutritious dish and a good way of serving halloumi.
This wonderful Aromatic Moroccan Salad packs a punch using chilli, tumeric, lime, garlic and cumin in the dressing and a selection of roasted vegetables.
Another way of using grilled aubergine is this wonderful Asian Dressed Aubergine dish. This time the skin is used in the dish to add to the fragrant notes of coriander, lime, mint and basil. Tastetastic!
And lastly, how about some refreshing fruits to start your morning off? This fruit salad uses rambutans, pineapple, mango, kiwi and strawberries all drizzled with a dressing of sparkling water and a dash of lime. Hydration is the key!
How will you be celebrating National Vegetarian Week?
I'm entering this into the Herbs on a Saturday challenge owned by Karen and guest-hosted this month by Anneli over at Delicieux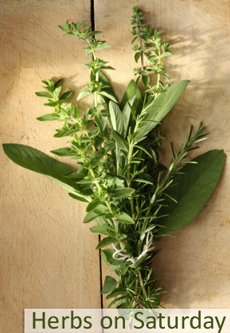 Like How to be a Gourmand on Facebook